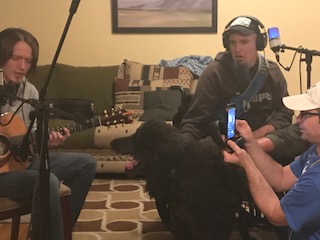 Barefoot KY Radio
This is the extended version.
Parts of this were aired on RadioLEX - WLXU 93.9 LP FM - January 21, 2020
Barefoot KY Radio

This show was pre-recorded.  Happy New Year Everyone!
Host
Carolyn Burnette

Guest Host
BLUbeard
Special Guests:  Kentucky Comedic Actor, Billy Crank and Musical Guest, David Hatton.  
Songs recorded live in studio during show unless otherwise noted
1.  David Hatton / I Did It Again
2.  David Hatton / Kentucky State Line
3.  David Hatton / Rob The Man
4.  Introducing, Bryant Carter / Truth
5.  David Hatton / The Red Print
 Background music, David Hatton
All songs played by permission of the original artists.
Parts of this show aired on Lexington's community radio, RadioLEX 21 Jan 2020
www.radioLex.us
Barefoot KY Radio and Barefoot KY TV are a Part of Sound of Lexington, LLC
www.soundoflexington.com
Thank you for listening!
Thank you for following us here on PodBean!
You can also find and please follow us here:
https://www.facebook.com/Barefoot-KY-Radio-129071470991086/
https://www.facebook.com/BarefootKYTV/
https://www.facebook.com/soundoflexington/
https://www.youtube.com/watch?v=PPPwZcOyaVg
Picture of David Hatton, BLUbeard and Billy Crank, along with pup Jack, by Carolyn Burnette - Look on Sound of Lexington Face Book Page for more info.