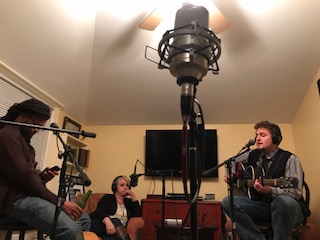 FULL INTERVIEW With
RENEE COLLINS
MARCUS WILKERSON
TRISTAN BUSKER - COSMIC BLISS
BILLY CRANK
AND GUESTS
ON
Barefoot KY Radio
AIRD ON
February 18, 2018 and February 25, 2018
Podcast 's 56 and 57
Broadcast #'s 37 and 38 for Lexington Community Radio

Our Special Guest - Renee Collins of RedBarn Radio and now also her radio show Overtones on Lexington Community Radio on Monday's at 3:00PM!
Our musical guests, Marcus Wilkerson and Tristan Busker, Cosmic Bliss
Also present:  Actor Billy Crank, Resident Smart Guy, BLUbeard, Matthew Florez, Jaye Arehart, Steele, William Thomas and Carolyn Burnette.

If you have original music, and its of good recording quality, and would like to submit it for consideration to be heard on our podcast, then for more information go to Soundoflexington.com and look under the radio tab.  More information coming soon.
Barefoot KY Radio and Barefoot KY TV are a Part of Sound of Lexington, LLC
www.soundoflexington.com
Thank you for listening!