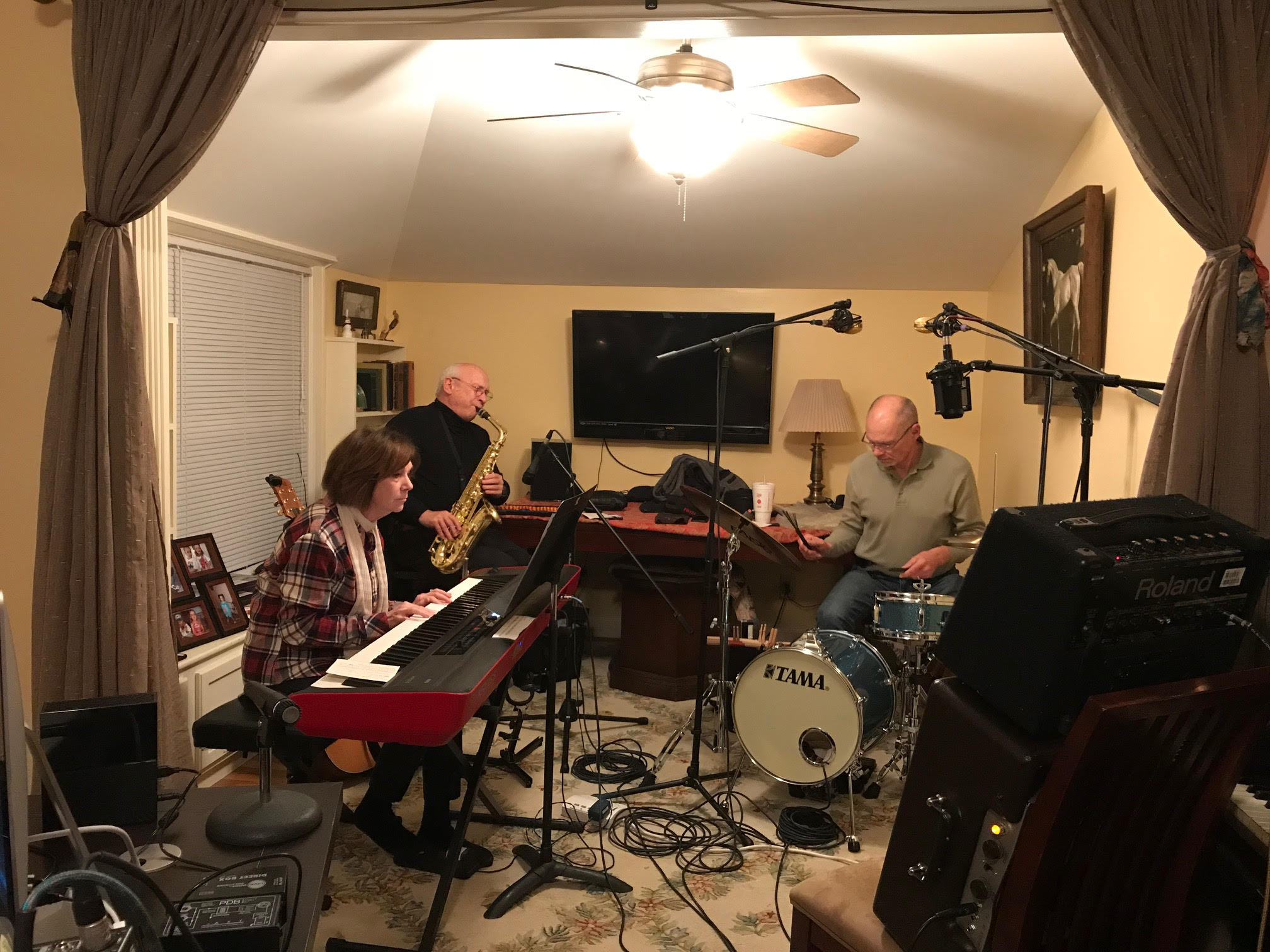 Barefoot KY Radio
on Lexington Community Radio 
With special guests Ed Commons and Warren Cobb of Red Barn Radio
December 10, 2017
Podcast # 51
Broadcast #29 for Lexington Community Radiol - WLXU 93.9 LP FM Lexington
If you have original  music of good recording quality and would like to submit it for consideration to be heard on our podcast then for more information go to www.SoundofLexington.com and look under the "Radio Tab" for more info.
This show is pre-recorded on December 06, 2017
Aired on 10 Dec 2017
Host and Guests
Carolyn Burnette
BLUbeard
Resident Smart Guy
Matt Florez
The Beautiful Jaye
and our special guests here for our Christmas Holiday Special 2017, Palmer Tolly with Paul Ozzy Osborne of the Osborne Tolly Trio Tet and Rob Wood.  They can be found playing music at many nice establishments around town.  Tonight they were our guests and came into our little crowded space for a beautifully fun evening of music.
Up first on the show is a music block with some great indie artists!
1.  Shantelly Lace / I'm Worth It / Nicholasville, KY
2.  Idylwild / Time / Winchester, KY
3.  The Dividends / Shades of Blue / West Virginia and Ohio
4.  1Guitar4Jo feat Triplesuck / Behind the Horizon / Germany
     Interview with The Osborne Tolly Trio Tet
     Recorded in studio at Sound of Lexington, LLC for Barefoot KY Radio
5. Osborn Tolly Trio / God Rest Ye Merry Gentlemen into Tidings of Comfort and Joy 
6. Osborn Tolly Trio / My Old Kentucky Home / Paul Osborne arrangement
7. Osborn Tolly Trio / What Child is this with some jazzy Latin flair
8. Hermulda with friends Tom Tania and Meg friends collaboration from the original SoundCloud <3 may it rest in peace until one of us finds a way to replicate it with love.  Amen / Silent Night with sitar so lovely
9. Carolb with Philip, Xan and Mauro.  That was the last thing Philip sang to with me before he went on to be with the Lord.  Makes it sound even more angelic to me.
10. Lars Cooper (or Looperman) / Carol of the Bells - very lovely!
Let Your Ears Enjoy the show!
Merry Christmas and Happy New Year!
All songs played by permission of the original artists.
This show aired on Lexington Community Radio 26 Nov 2017
www.lexingtoncommunityradio.org
Barefoot KY Radio and Barefoot KY TV are a Part of Sound of Lexington, LLC
www.soundoflexington.com
Thank you for listening!
Thank you for following us here on PodBean!
You can also find us here:
https://www.facebook.com/Barefoot-KY-Radio-129071470991086/
https://www.facebook.com/BarefootKYTV/
https://www.facebook.com/soundoflexington/
https://www.youtube.com/watch?v=PPPwZcOyaVg
Picture of Warren Cobb, Ed Commons and Carolyn by Carolyn Burnette - Look on Sound of Lexington Face Book Page for more info.