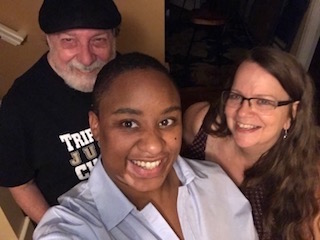 √
Barefoot KY Radio
July 15, 2018
Podcast #69
Broadcast #50 for Lexington Community Radio
Hosted by Carolyn Burnette

If you have original music, and its of good recording quality, and would like to submit it for consideration to be heard on our podcast, then for more information go to Soundoflexington.com and look under the radio tab.  More information coming soon.
1. Sunny Cheeba / My Reality / Sunny Cheeba / Lexington, KY
2. FatBox / What'd You Say / Bowling Green, KY
3. Jennifer Hall / Forget My Name / In This / Chicago
Interview with local artist DeNae Winters of Lexington KY and her music and great personality and so much more! Great interview between her beautiful tunes!  She sang for us right here at BarefootKYRadio studio!
4. DaNae Winters / Stairway 
5. DaNae Winters / Hey There
6. DaNae Winters / Ocean
7. DaNae Winters / Pollution
All songs played by permission of the original artists.
This show aired on Lexington Community Radio
www.lexingtoncommunityradio.org
Barefoot KY Radio and Barefoot KY TV are a Part of Sound of Lexington, LLC
www.soundoflexington.com   Thank you for listening!
Follow us here on PodBean!
You can also find us here:
https://www.facebook.com/Barefoot-KY-Radio-129071470991086/
https://www.facebook.com/BarefootKYTV/
https://www.facebook.com/soundoflexington/
https://www.youtube.com/watch?v=PPPwZcOyaVg
Picture of DaNae Winters, Ronn Crowder and Carolyn Burnette, KY by Carolyn Burnette 082018 - Sound of Lexington Face Book Page for more info