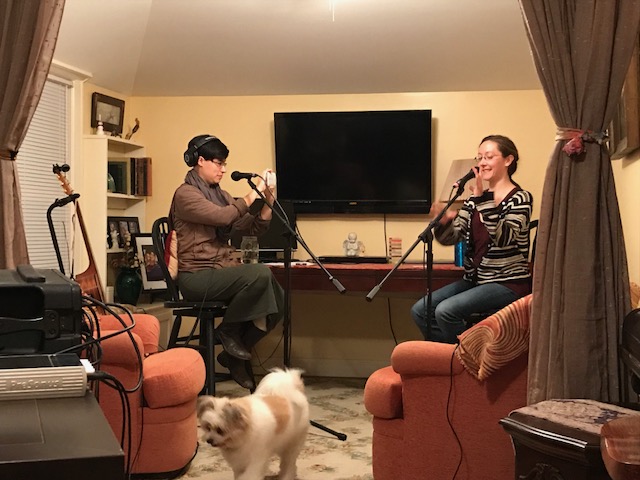 Barefoot KY Radio
with special guests
Miranda Brown and Saro Lynch-Thomason
both who teach Shaker Songs

November 19, 2017
Podcast # 47
Broadcast #26 for Lexington Community Radiol - WLXU 93.9 LP FM Lexington
If you have original  music of good recording quality and would like to submit it for consideration to be heard on our podcast then for more information go to www.SoundofLexington.com and look under the "Radio Tab" for more info.
This show is pre-recorded on 12 Nov 2017 with special guest Saro Lynch-Thomason and Miranda Brown
Aired on 19 Nov 2017

Hosts
Carolyn Burnette
BLUbeard
1.  A Mild Inconvenience / If There's A Reason
2.  The Past / Confide in Me
3.  Cole Campbell & David Stuart / If You Don't Know

4.  Ethan and Joey / Bird and a Gun  /Unloaded
Interview with Miranda Brown and Saro Lynch-Thomason
5.  Miranda and Saro  /  Singing Shaker Songs
6.  Miranda and Saro / Shaker Life
7.  Miranda and Saro / Supplication and Nations Calamity
8.  iranda and Saro / Broken Heart
9.  Miranda and Saro / Pretty Mother's Home
10.  Oorlab and Friends / Odd Blue Spot
11.  Eric Bolander / Do it Right
All songs played by permission of the original artists.
This show aired on Lexington Community Radio 19 Nov 2017
www.lexingtoncommunityradio.org
Barefoot KY Radio and Barefoot KY TV are a Part of Sound of Lexington, LLC
www.soundoflexington.com
Thank you for listening!
Thank you for following us here on PodBean!
You can also find us here:
https://www.facebook.com/Barefoot-KY-Radio-129071470991086/
https://www.facebook.com/BarefootKYTV/
https://www.facebook.com/soundoflexington/
https://www.youtube.com/watch?v=PPPwZcOyaVg
Picture of Miranda and Saro by Carolyn Burnette - Look on Sound of Lexington Face Book Page for more info.