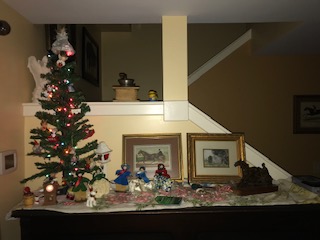 Barefoot KY Radio on RadioLEX - WLXU 93.9 LP FM - Aired December 31, 2019
Barefoot KY Radio

December 31, 2019
This show was pre-recorded.  Happy New Year Everyone!
Host
Carolyn Burnette

1.  The Other Years / Whisper
2.  The Lone Tones / Bathed in Blue
3.  Wesley Saylor / Share the Pain
4.  Fat Box / Curtis
5.  The Footsteps / Steppin' Out
6.  The Dividends / Shades of Blue
7.  1Guitar4Jo / Beyond the Horizon
8.  Ashley Stuebs / Soar
9.  Marsha Lee / Numb
10. Warren Byrom / Forbidden Planet
11.  The Chaunters / Your Smiling Eyes / Luxemborg
12.  Jennifer Hall / Wash Away
Background music, in order of presentation; Sister don't cry by Fat Box, Hands in hands by Jonathan Sautter who is 1Guitar4Jo, and Water Tower by Warren Byrom.
All songs played by permission of the original artists.
This show aired on Lexington's community radio, RadioLEX 31 Dec 2019
www.radioLex.us
Barefoot KY Radio and Barefoot KY TV are a Part of Sound of Lexington, LLC
www.soundoflexington.com
Thank you for listening!
Thank you for following us here on PodBean!
You can also find and please follow us here:
https://www.facebook.com/Barefoot-KY-Radio-129071470991086/
https://www.facebook.com/BarefootKYTV/
https://www.facebook.com/soundoflexington/
https://www.youtube.com/watch?v=PPPwZcOyaVg
Picture by Carolyn Burnette - Look on Sound of Lexington Face Book Page for more info.