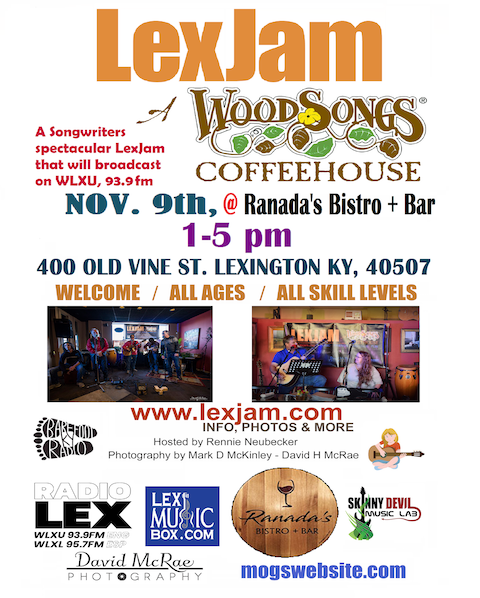 Part II
Barefoot KY Radio + LexJam Songwriters on RadioLEX WLXU 93.9 LP FM
Recorded live at Ranada's Bistro and Bar, 400 Old Vine, Lexington, KY
November 9,2019
Aired November 9, 2019
LexJam is hosted by Rennie Neubecker and Crew:
Mark McKinley - Photography and webpage
David McRae - Photography
Matthew Florez - Audio
Steve Zanone - Stage Manager
Larry Williams
and all the others who help!
Artists and their songs:
1. Kevin Holm Hudson / Prayers of the Gentle
2. Dean Phelps / Except the Tenderloin
3. Ronn Crowder / Hollywood
4. Brother Byron - Byron Cooper, Ben Aubrey, Riley Logan, Dan Yoder and Jack Smithers / The Line
5. Haywood Ferguson original, vocal and harp,David McClain guitar, Dan Ward on flute /
    Welcome Home My Wayward Son
6. Dan Ward on flute / Ancestral Winds - accompanied by Jan Stepka on keys
7. The Blurs / Mike Bratcher bass, John Forgy lead, Toby Myrick percussion, Carolb guitar/voc, Jan Stepka keys /   
    Give Ah Oh
8. Jonathan New / Kentucky Ground
9. Chris Heinz / Nothing to fear but fear itself
10. Matt Green / Forgotten Soldier
11. Rennie Neubecker / Red, White and You
12. Just jammin' - John Forgy lead guitar, Mike Bratcher bass, Jan Stepka keys, Dan Ward percussion, Haywood Ferguson harp, Chris Heinz probably in there too somewhere, and whoever else!
All songs played by permission of the original artists.
This show aired on RadioLEX WLXU 93.9 LP FM on 19 Nov 2019
http://radiolex.us
LexJam
http://www.lexjam.com/
Barefoot KY Radio and Barefoot KY TV are a Part of Sound of Lexington, LLC
www.soundoflexington.com
Thank you for listening!
Thank you for following us here on PodBean!
You can also find us here:
https://www.facebook.com/Barefoot-KY-Radio-129071470991086/
https://www.facebook.com/BarefootKYTV/
https://www.facebook.com/soundoflexington/
https://www.youtube.com/watch?v=PPPwZcOyaVg
Picture at Ranada's Bistro and Bar during LexJam by Carolyn Burnette
Look on Sound of Lexington Face Book Page for more info.